As of recently I have been to one of the wonders in Southeast Asia. The Angkor Wat temples in Siem Reap, Cambodia. You might be wondering just what on earth this has to do with making something, hold your horses! I'm getting to it!
While there, not only did I see amazing architectural monuments, hundreds of sculptures and many many local crafts. I signed myself up for a pottery making lesson with the locals themselves. As you've probably guessed by now, I'll be taking you through my experience with a special group of instructors that helped us understand the art of Khmer ancestral pottery!
The Ultimate Hands-On Experience!
I don't speak the local language of khmer but that was no problem here, mainly because all of the pottery experts were hearing impaired. The Khmer Ceramics & Fine Arts Centre is an organization aiming to rediscover and reintroduce Khmer ancestral pottery techniques. They train and employ local Cambodians who are faces with difficulties due to their disabilities.
The importance of body language
Having attended several pottery classes locally I knew what the standard steps were to the pottery process. However from the beginning things were already turbulent as the potters wheel was a manual one. Not the electric one mind you. Think the old school leg paddling singer sewing machine, that kind of manual.
With that being said, the instructors were amazing in helping to stabilise the wheel and we were quickly able to get the hang of it though their single hand singing and body language. The instructors were so finely in tune with the participants they knew when we were in trouble to come help us out.
This was the workspace for the day, if you're anything like me and at times lack the hand to leg coordination then you will be able to understand why this manual potter's wheel was pretty intimidating.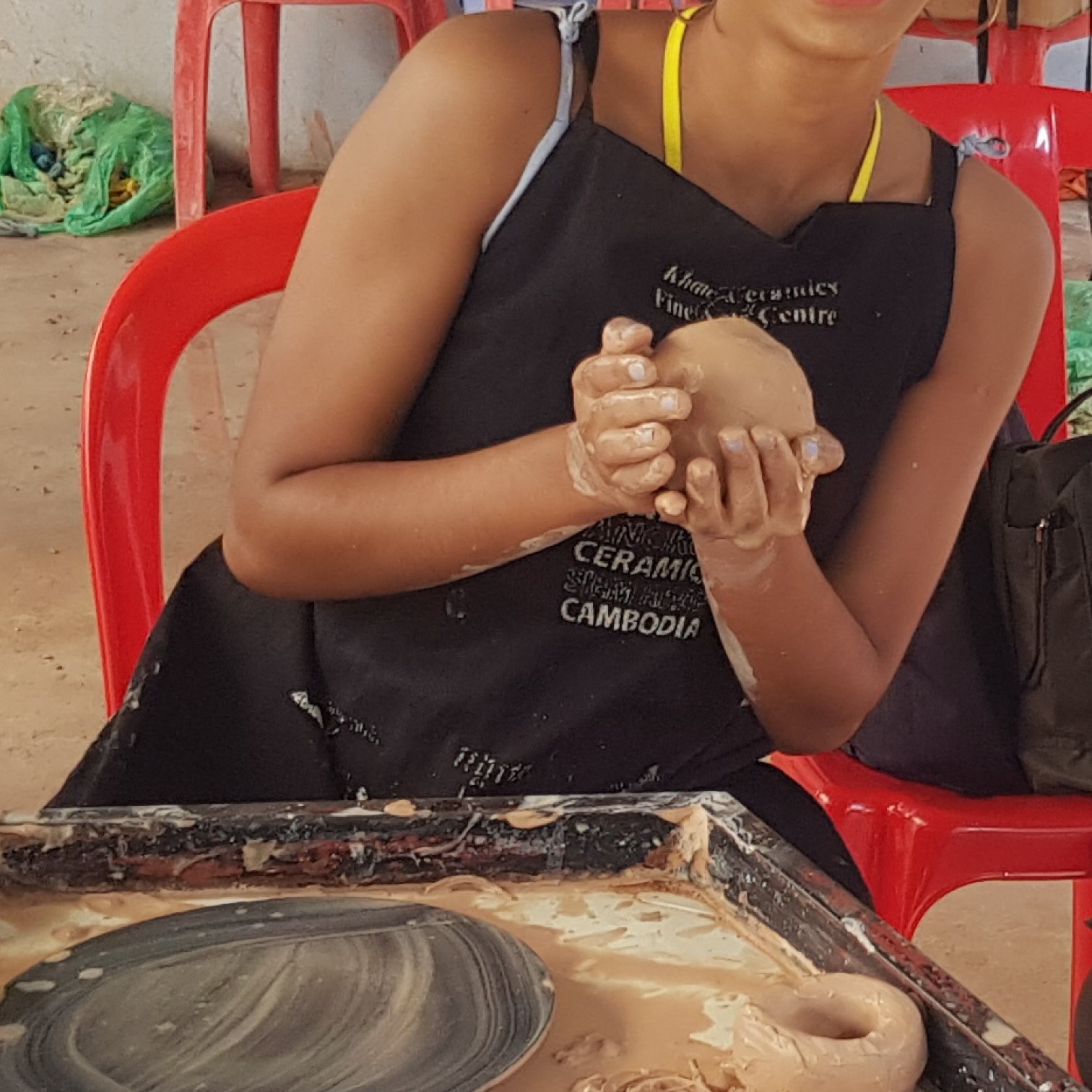 Like all great things, it all starts with something small and not so great looking. Starting off with a relatively decent sizes lump of clay and whacking that into a rounded lump.
We then proceeded to get it on the wheel and actually start shaping it. Getting the manual wheel to work in sync with your hands was probably the most important takeaway here. Once you're in sync it's smooth sailing from there!
As smooth as this when you've cleaned up the edges and its actually starts to resemble a cup, bowl or plate. The variations are endless and entirely up to your creative freedom.
This is the final bowl, glazed and fired in Siem Reap! The final stone glaze adds the perfect finishing to it.