April brings about the beginning of an end. The end of Game of Thrones, that is! Finally, after a two year break, the colossal HBO series is back for a pivotal last season and while we can't predict who will end up ruling all of Westeros (or not), we do know that brands and companies have been riding on the backs of Daenerys' dragons (get it?) in a bid to remain relevant to consumers who may or may not be into the most significant thing to happen on cable television this year, talk about real-time marketing!
THE BIG GUNS
OREO
In the Game of Thrones, you dunk or you die.
Oreo went all out with their marketing by recreating the Game of Thrones opening credits with – you guessed it – Oreos. And not only that, they've also released a limited edition series of the cookies stamped with the images of House Lannister, Targaryen, Stark, and the Night King. People have of course, gone as far to sell them on eBay for hundreds of dollars.
Find out how they recreated this whole sequence.
MUSIC
Back in 2014 – 2015, HBO released the Catch the Throne mixtapes Vol.1 and 2 during promotions for seasons 4 and 5. This time round, HBO, together with record label Columbia Records, are releasing For the Throne: Music Inspired by Game of Thrones, a collection of songs by popular artists such as The Weeknd, A$AP Rocky, Ellie Goulding, The National (remember their cover of Rains of Castamere?) and Jacob Banks.
At this point of time, we're absolutely blown away by Florence + the Machine's haunting rendition of Jenny of Oldstones that premiered at the end credits of the second episode of season 8. Foreshadowing, much?
ADIDAS

We admit, if these Adidas Ultraboost shoes didn't have the House emblems stitched onto them, we wouldn't have given them the time of day and we most certainly wouldn't be shelling out USD 180. That's how much of an influence this show has on us.! That being said, that orange + black combo is a great homage to House Targaryen.
SHAKE SHACK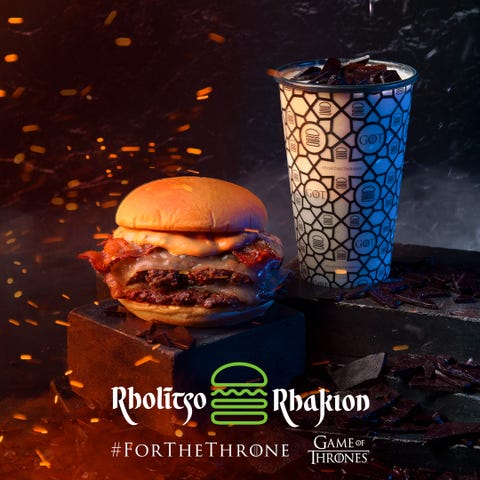 By far the most delicious marketing campaign we've come across so far in this Game of Thrones marketing tsunami, Shake Shack joins the fray by promoting a limited edition menu featuring the "Dracarys Burger" and "Dragonglass Shake". The catch? You'll have to order in Valyrian (a language spoken amongst some of the show's characters). But don't worry, Shake Shack – or Rholītso Rhakion in Valyrian – provided a pronunciation guide!
LOCAL CAMPAIGNS
But don't think the fun is only happening on the global scene! Singapore market has seen its very own wave of Game of Thrones marketing – bringing us head to head with the big guys! We too! Are ready for a fight!
GUARDIAN SINGAPORE
The word 'dragon' does not a Game of Thrones reference make, but we applaud Guardian's effort in tying one of their products to the show.

ICE MOUNTAIN PURE DRINKING WATER
Singapore's leading brand of mineral water wasn't about to be left in the snow – they've created a punny ad that referenced both Game of Thrones and their name. Iced (The) Mountain, anyone?
CALTEX SINGAPORE
At first glance, the ad looks like it was just Caltex Singapore's attempt to jump on the Game of Thrones bandwagon. But upon closer look, this was posted the morning after the series premiered on HBO at 10pm. Though the graphic itself is adorable, we figured the copy could have done better to make it obvious that this was in reference to Game of Thrones (just in case someone pulls a Jon Snow and knows nothing).
OLAY
It is (now) known that someone in Olay's social media marketing team is a HUGE Game of Thrones fan because the beauty brand didn't have only one post leading up to the season premiere, but instead – like the number of dragons Daenerys has – they posted THREE. We really enjoyed how they've managed to pair up their products (who would've thought to call their night cream the Night King?) with pivotal Game of Thrones themes.
ECOSPERITY
Ecosperity is a conference by Temasek Holdings that brings together corporate leaders, innovators, policy-makers and experts from all over the world to push the frontiers of sustainable development. While their mission is admirable, we're not too sure if using Game of Thrones quotes that alluded to the destruction strife brings (eg: Tyrion Lannister's "A day will come when you think you're safe and happy and the joy will turn to ashes in your mouth.") equates to climate change…
——-
While these marketing campaigns showcases creativity, it also highlights how extreme commodification is inevitable as you'll have everyone – including companies that have no ties to HBO whatsoever – attempting to milk the cash cow that is Game of Thrones. It's all now finally coming to an end, what house do you stand for?