I don't know about you but every time I hear "Black Friday", all I envision is this.
Mad rush, violence, greed is how I would describe it. And this is what we experience on the day. Mega discounts, everyone's weakness! I bet you can relate to this. It is a consumption centric day but who doesn't love to save with the best deals! By today, you must have seen at least 20 newsletter or Facebook and Instagram ads targeting you with their promotions. "Black Friday Sales", "Serious Saving this Black Friday", "BIGGEST Sale of the Year" are some of the few that we have seen.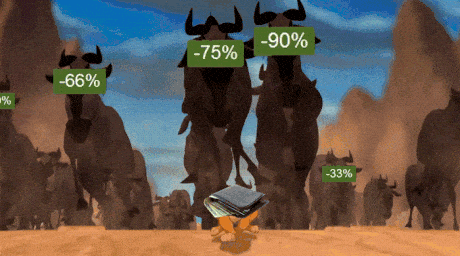 History of Black Friday
Have you ever wondered how the term came about?
One of the stories explains that it came about because after a year of operating at a loss (red zone), shops would finally earn a profit (black zone) the day after Thanksgiving. This is the "official" reason you'll see flying around but does not seem to be the most accurate story.
If you want a horror story. There were rumours in recent years that Southern plantation owners could actually purchase slaves at a discount in the 1800s. However, this is just a rumour and to this date, no evidence has proven that it is actually true. Should it be accurate, how awful would it be to celebrate that day?
What seems to be the most accepted version though goes way back to the 1950s, when the Philadelphia's police is said to have used the term to depict the madness of the day after Thanksgiving. The post shopping rush caused heavy and rowdy pedestrian and traffic that most of the time resulted in accidents and violence. In the 1950s, people called in sick the day after Thanksgiving and gave themselves a head start on their festive shopping. Eventually, businesses added this day as another holiday.
It is said that they tried to change the name of the holiday to "Big Friday" because of negative connotations but that tentative was unsuccessful.
It is a Worldwide Sale!
Nowadays, Black Friday doesn't only happen in the US but has been adopted across the world, with 195 countries currently "celebrating" this "holiday". Countries in Europe such as the UK, France and Germany started adopting Black Friday about four to five years ago. It has also spread to Asia and Africa. It is literally a worldwide sale! Each year, it seems that more countries jump onto this bandwagon even though most cultures do not celebrate Thanksgiving.
Is it Black November or Black Friday?
For many retailers, there is a large emphasis on Black Friday in hopes to boost profits during this season. If you recalled recently, there was another big sale which was the 11.11 sales. Just like Black Friday, people shop til they drop. It is deemed to be the biggest shopping day in the world even though it started only 11 years ago. This year, Alibaba set a new record of $38.4 billion in sales! In just 24 hours, they have sold more than half than what Amazon sells in a quarter of a year. And on Lazada, they gained more than 10 million users in 2019!
Just days after the massive 11.11 sales, ads for Black Friday started rolling. With competitive discounts online, retailers are offering deals and discounts way ahead of time! Promotions and offers for Black Friday started even way before the actual day. Some even declaring pre-black Friday sales. Examples as such.
Well known cosmetic company, Colourpop pre empt customers with the deals that they are offering for the entire Cyber Week. Also starting their promotions before the actual day. If you have read our article about importance of marketing, you might remember Jeffree Star Cosmetics. They too are emptying their customer's wallet even more with major discounts.
How did Cyber Monday coincide with Black Friday, you may wonder. With the shift of shopping behaviours, retailers created Cyber Monday to cater to online shoppers. In 2018, data has shown that there are more purchases on Cyber Monday with $7.9 billion spent versus $5.9 billion spent during Black Friday. This data is for the US alone! It is predicted that this year, Cyber Monday is expected sales to be $9.4 billion.
The entire month of November is full of sales. Should we rename it to Black November?
Is Black Friday bad?
With deals spreading out throughout the month, this leads to a consistent rise in consumer spending. A lot of products that is pushed out are luxury goods that we do not need. Who would resist getting a Smart TV at 50% off even though the tv in our homes is working perfectly fine? This day encourages people to consume regardless of needs. This over-consumption results in serious consequences for the environment and society.
For the week of Thanksgiving, Black Friday and Cyber Monday in 2018, there were a total of 44.5 million transaction online. What does this mean for the environment? Packaging and shipping are all needed for the transactions made. The number is only expected to grow with the growth of online shopping. There will be more packaging wasted, more fuels burned for transportation to fulfil the orders made.
Aside from environmental issues, the rise of consumption results in people wanting more. Noam Chomsky said in an interview "A huge part of the economy is devoted to driving these things out of people's heads. To make you think that all you want is more commodities. So you should go shopping instead of reading". The desire for more is what Chomsky calls "Created Wants". This means having the desire of useless objects created by advertisements that makes consumers believe that we want it. It also makes us believes that it makes us better.
With this it also makes us forget to ask whether the companies selling or delivering the product do so ethically. There were reports that in Amazon, employees are required to work 12 or more hours and are treated quite poorly over the sales period. A situation that has caused workers to protest against low wages and inhumane working conditions. There was even a movement called #WeAreNotRobots.
What can we do about this?
We are all guilty of shopping on deals and discounts and get easily carried away. What can we do to control ourselves and be smart about our purchases? First of all, be mindful of your spending, do not buy the speaker that you do no need. Do not buy a product just because it is on sale. Scoring a deal might feel good but if you truly to do need it, it is a pointless purchase.
With Black Friday lasting the entire month, choose one day to shop. You will be easily enticed into marketing tricks but by choosing just one day, you will have less opportunity to overspend. Get what you need and put your wallet away!
Another tip is when out shopping in stores, limit yourself with just one shopping bag that you have brought along. With limited amount of "space", you have lesser things to shop. Also, we can also try our best to boycott brands that are unethical and are disruptive to the environment.
Essentially, we want to participate less in the world of harmful consumer culture which we live in. It is inevitable because we still live in a culture of consumerism but we each can do out part in contributing less.